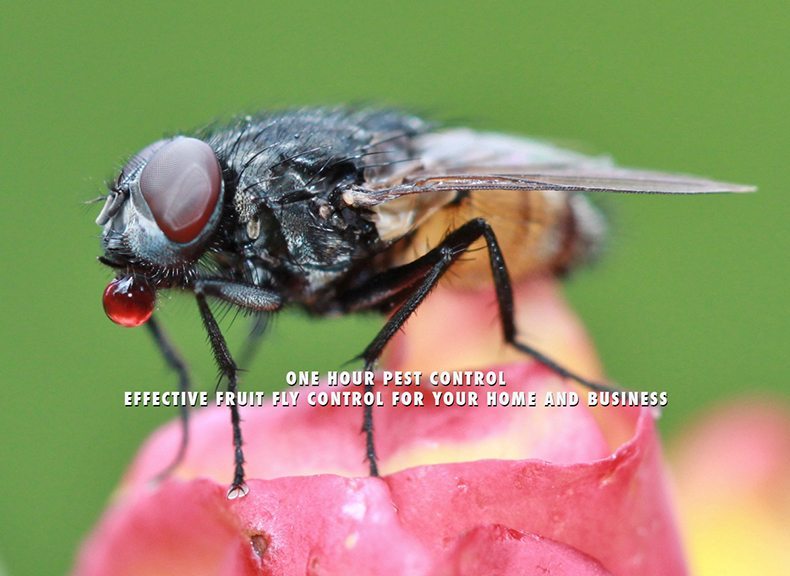 The Most Dependable and Affordable Local Pest Control Exterminators in NYC
Flies-General
Non-biting flies are one of the most important pest groups because they are not only nuisance pests, but many are also important in disease transmission. Flies feed on a variety of food materials but most of those of structural importance develop in either fermenting or decaying organic matter, although a few are parasitic on other animals. Fly control is often quite challenging because their larval developmental site(s) must usually be located and eliminated for success, and these sites may be some distance from where the adults are nuisances.
• More than 120,000 species exist ranging in size from one-twentieth of an inch to well over three inches long.
• Take on various shapes. In the larva or maggot stage, flies resemble greasy white worms.
• Do not have teeth or a stinger, but rather thrust needle-like hooks into victims and inject a digestive juice that breaks down cell tissue.
• Have life span of approximately 21 days (house flies).
• Are attracted to a variety of warm, moist substances from animal feces to human food and garbage.
• Spread at least 65 human pathogens including typhoid fever, diarrhea, tuberculosis, salmonellosis and cholera.
• Breed in garbage cans, compost heaps, pet feeding and pet elimination areas.
Flies Resource List
Below is a list of fly resources from around the web. This is one of the most comprehensive assemblies of informational links we have seen and we bring this to you as part of One Hour Pest Control's mission of being the Authoritative Source for Information.
One Hour Pest Control is not responsible for the content on any of the websites below (except our own) – the opinions and information expressed on these sites are the responsibility of each site owner.
All web site links were verified as active and current as of March 16, 2016.
Flies
House fly
Little house fly
Canyon fly
Face fly
Stable fly
Blow flies
Summary
Fruit flies feed on decaying fruits and vegetables.
Habits
Fruit flies feed on decaying matter, especially fruits and vegetables.
Habitat
Fruit flies are small pests that are commonly found in homes, restaurants and other facilities where food is processed. They are found on moist, decaying matter that has been stationary for several days. House flies tend to stay within 1-2 miles of where they were born; however, they have been known to migrate up to 20 miles to find food.
Threats
Fruit flies are found in unsanitary conditions, so they are a potential health concern, especially when present in health facilities. These insects have been known to carry over 100 different kinds of disease-causing germs, which makes them very bad house guests.
Prevention
House flies can be controlled through vigilant sanitation. Remove trash regularly and use well-sealing garbage receptacles. Clean up pet waste immediately. Use fine mesh screens on doors and windows to prevent fly entry.
Fruit flies are best prevented through vigilant sanitation practices. Remove kitchen trash daily, and keep counter surfaces clean.
They are only able to feed on liquids but have the ability to turn many solid foods into a liquid for them to eat. House flies taste with their feet, which are 10 million times more sensitive to sugar than the human tongue.